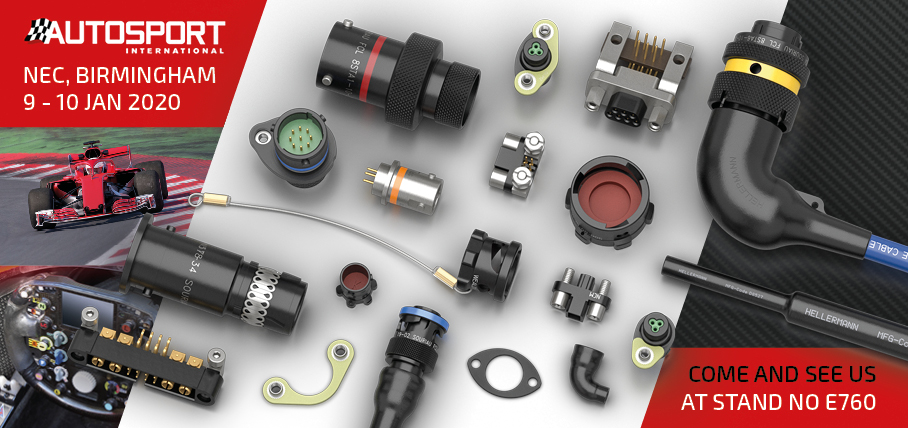 A comprehensive electronic connector and connector accessories package is to be showcased by Lane Motorsport at the Autosport Engineering show in January 2020.
Visitors to our stand E760 at the NEC Birmingham can see and discuss the very latest  connectors from Souriau and Nicomatic and connector accessories from HellermannTyton and Weald Electronics. These connector systems can handle anything the motorsport environment throws at them while the accessory package is designed to save time and money during development, installation and replacement.
Lane Motorsport is a leading assembling distributor for Souriau, a leader in the manufacture of interconnection products used throughout the motorsport sector. The company's 8STA circular connectors find wide application connecting engine control units, communications equipment, data acquisition systems, fuel pumps, starters, alternators and batteries throughout all levels of motorsport.
Souriau also manufactures the microComp® series of high-density rectangular connectors. These are lighter than micro-D and standard D-subminiature connectors which makes them ideal for  applications where space and weight considerations are paramount.
Also part of Lane Motorsport's interconnection package is the Nicomatic EMM series. Featuring a 1.27mm pitch, the EMM series achieves more than a 40% space reduction when compared to Nicomatic's established CMM series or as much as 20% when compared to standard MicroD connector systems. Designed to meet the performance requirements of MIL 83513, the connectors integrate features including reversed contacts, 90° back protection and interchangeable hardware.
Along with these connectors, Weald Electronics produces a range of ultra-lightweight 8STA compatible accessories like protective caps, nut plates and gaskets, and all the assembly tools required. Weald also  provides a custom connector modification service that takes a standard product and alters its size and weight as required.
Many of HellermannTyton's heat shrink moulded boots are made specifically for motorsport.  Lane will display standard boots, glue lined boots, high temperature boots for fuel tank applications, both straight and right-angled variants and the very popular VG9500 twin pack epoxy used to glue standard boots.
Recognising the "special" needs of motorsport in all its forms, Lane Motorsport, can respond rapidly to requests for product regardless of quantity or how "unusual" the specification. Lane Motorsport  has at its disposal an almost limitless stock of the multitude of parts needed to build the connector as well as the facilities to assemble the finished product on demand.