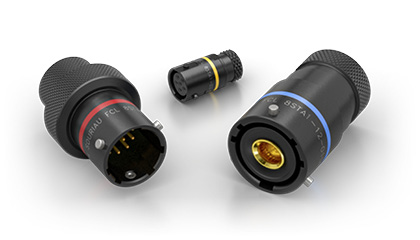 In-line Receptacle Connectors
Designed to offer motorsport a host of weight, cost and space saving benefits when connecting engine control systems etc, this 8STA in-line receptacle allows easy fixing and easy cable routing in tight spaces. Cable identification is made simple with colour coded bands.

Product Description
Weight and cost saving
Easy fixing and cable routing
No corrosion risk
Available in several shell sizes
Easy cable routing in tight space areas
Related Products
Close
Enquire about item: In-line Receptacle Connectors
We use cookies on this site to enhance your user experience. By clicking any link on this page you are giving your consent for us to set cookies. more information
The cookie settings on this website are set to "allow cookies" to give you the best browsing experience possible. If you continue to use this website without changing your cookie settings or you click "Accept" below then you are consenting to this.