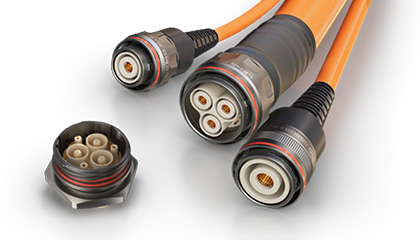 High Power Threaded M Series Connectors
This LEMO M series High Power connectors were developed to satisfy the most stringent connection requirements for High Power distribution of electric vehicles and electronic devices  – essentially any system with electrical motors, batteries and inverters where high current may be required for short or longer period.

Product Description
Maximum current rating from 140A to 430A
Temperature range -55°C to 200°C
High shock and vibration resistance
Oil and fuel resistant
Compact design for space savings
Various sizes and configurations
360° screening for full EMC shielding
Ratchet-coupling mechanism
IP68 mated; IP68 unmated as options
Reverse gender configuration option
Scoop proof and IP2X finger protection
Alternative housing material: Brass for 1000 hours salt fog resistance
Tested to MIL Standards (MIL-STD-810F)
Threaded option for MIL-DTL-38999 backshells
Close
Enquire about item: High Power Threaded M Series Connectors
We use cookies on this site to enhance your user experience. By clicking any link on this page you are giving your consent for us to set cookies. more information
The cookie settings on this website are set to "allow cookies" to give you the best browsing experience possible. If you continue to use this website without changing your cookie settings or you click "Accept" below then you are consenting to this.