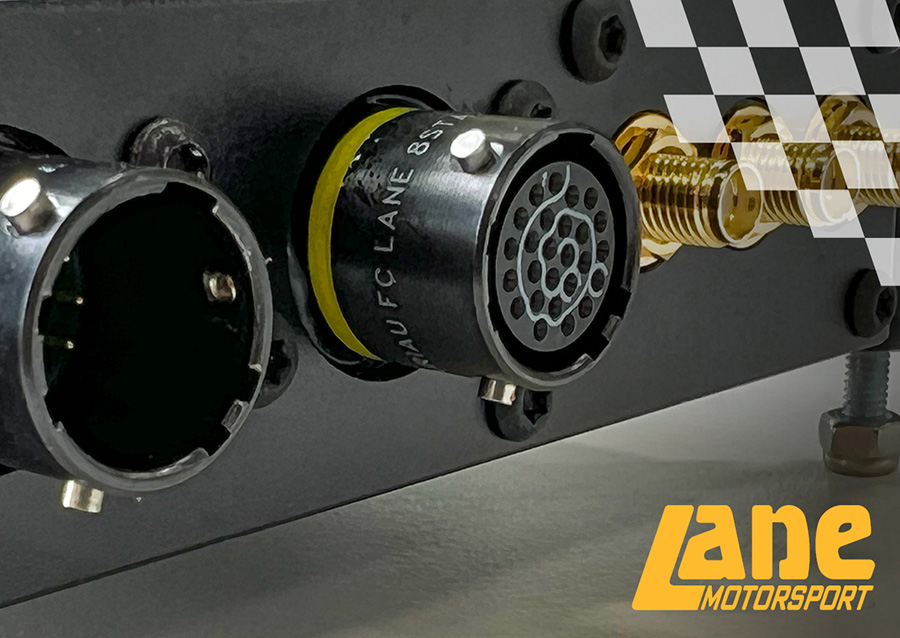 Lane Motorsport's UK based VAD facility has helped a leading UK motorsport cellular telemetry solution provider with fast delivery from stock of high-performance connectors for the launch of a market leading new device which can deliver live 5G data to team garages using the best network available at any point on the track.
Using products from our wide stock profile, coupled with our prestige in-house value-added assembly facility, we can specify and supply standard connectors and accessories to provide specially configured connectivity solutions for bespoke requirements on very short lead-times.
For this application the customer needed a particularly high contact density connector with proven motorsport credentials.  The Souriau 8STA motorsport connector by EATON is already a popular choice given its low weight, compact size and reliable metal-bodied construction and here an ultra-compact 26-way version of the connector accommodates 2 x 10Gb Ethernet, 1 x 100Mb Ethernet and 1 x USB connectivity.
This is an excellent example of the design and value-added assembly service that we can provide to customers. Selecting from our wide choice of high-performing connectors with a long history of proven motorsport success, coupled with the ultra-fast turnaround that our comprehensive stock and in-house assembly offers means we can address some of the latest and most challenging applications and help get customer's new products to market quickly and reliably.
Lane Motorsport has a wealth of experience in supplying both standard and custom connectors for LF, RF and optical cables, as well as all elements of the connector system, including weight-reducing Weald Electronics motorsport connector accessories and race-ready HellermannTyton heatshrink boots. Products are available to support the requirements of high-performance racing cars, motorcycles and boats including the fast-growing world of hybrid and EV platforms.  Lane Motorsport also supports UK Formula Student racing teams who are developing innovative electric racing cars on their journey to become designers of the future.