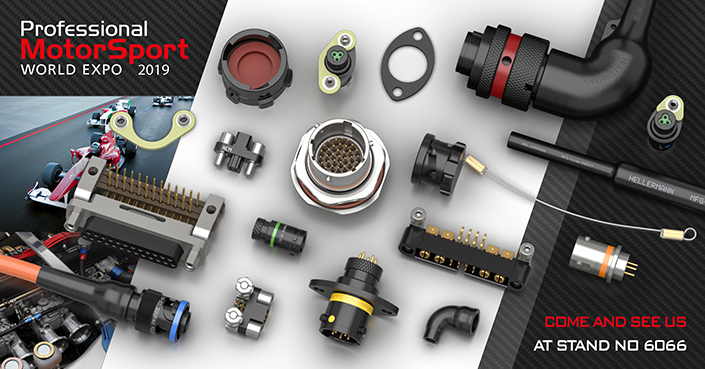 Once again, we are exhibiting at Professional Motorsport World Expo which takes place in Cologne from November 13 to 15. It's the leading event for motorsport teams, racing car engineers, designers and drivers.
On booth 6066, we will showcase the industry and technology leading Souriau 8STA series of connectors as well as a broad and comprehensive range of 8STA accessories produced by HellermannTyton and Weald Electronics. Also on display and available for discussion will be Nicomatic's CMM Series of high reliability 2mm pitch connectors, the Nicomatic EMM Series of 1.27 mm pitch connectors which feature a much smaller footprint than rival systems and the Souriau microComp® high density connector series that offers designers a lightweight alternative to high density D-Sub and micro-D connector systems.
Souriau's 8STA connectors reliably connect technology across platforms in all forms of motorsport. These space and weight saving, high performance connectors can be found connecting engine management systems and sensors, batteries, starters, alternators, fuel pumps and control and data carrying harnesses.
Our broad and comprehensive portfolio of 8STA compatible accessories manufactured by Weald Electronics includes nut plates, protective caps and gaskets and are complemented by heatshrink boots and tubing from HellermannTyton. We have large stocks of standard boots, glue lined boots and high temperature boots for applications in areas like fuel tanks as well as heat-shrinkable SE28 2:1 series tubing which is a direct replacement of Raychem DR-25 tubing.
For applications that need non-standard connector systems, we can modify and remodel Souriau's 8STA connectors and accessories  to suit a customer's specific application.