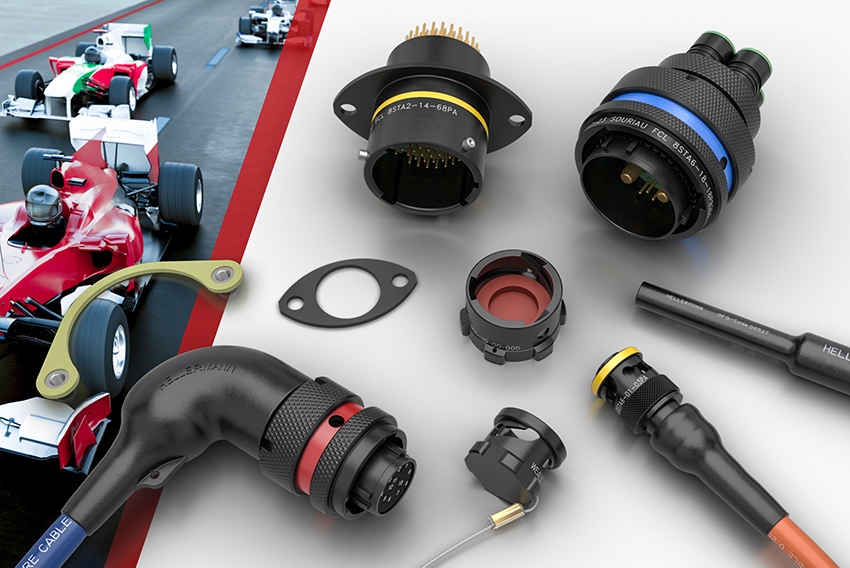 In the motorsport market electronics are increasingly being used, while at the same time space and weight constraints are becoming more and more important, with dependability an additional must. It's for this reason that the Souriau 8STA series are so highly coveted. The 8STA series are miniature circular connectors designed to be smaller and lighter with high-reliability features that ensure race performance and driver safety.
According to Pete Costin, our Business Development Manager, they are among the lightest and smallest circular connectors of their type currently available and as such they are the preferred connectors across the world of competitive autosport for sensors and electronics systems in applications such as engine management, data acquisition, steering wheels, telemetry, fuel tanks and hybrid energy recovery systems.
Featuring a rugged aluminium body plated with ROHS compliant conductive black zinc as standard, the 8STA connectors are derived from international military specifications MIL-DTL-38999 and Eurofighter JN1003. Consequently, they are designed to withstand the high levels of shock and vibration that are also found in autosport.
The 8STA series features a smooth, quick and secure 1/3 turn bayonet coupling and different key orientations are colour-coded for ease of identification when space and time is at a premium. Integral backshells on the cable plugs and special oval flanges on the panel-mount receptacles combine to further reduce the weight and connector size.
When mated, the connector meets the requirements of IP67 and can withstand salt spray and many types of fluids including those found across autosport platforms. Glass-to-metal sealed hermetic receptacles and feedthroughs complete the range with specific fuel tank versions for long-term fuel immersion.
We offer standard connectors including high density (HD) 8STA connectors and high power versions from stock with next-day delivery and no MOQ. Also, as an assembling Souriau distributor, customer specific connectors can be assembled and tested to order on short lead times.