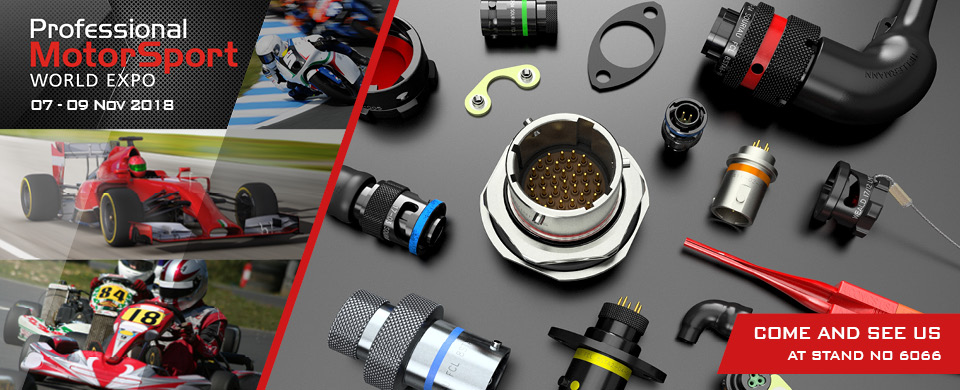 One again Lane Motorsport will showcase Souriau 8STA series of connectors designed to reliably connect technology in all forms of motorsport. Applications for these space and weight saving, high performance products within autosport platforms include connecting engine management systems and sensors, batteries, fuel pumps, starters, alternators, and control and data carrying harnesses.
Along with the 8STA connectors themselves, Lane Motorsport will present a comprehensive package of 8STA compatible accessories manufactured by Weald Electronics and heatshrink boots made by HellermannTyton. Lane Motorsport is now HellermannTyton's biggest distributor of boots for the motorsport market with large stocks of the standard boots, glue lined boots and high temperature boots for fuel tank applications etc.
Weald Electronics accessories include ultra lightweight protective caps, nut plates and gaskets designed to save weight and meet the extreme environments found within the autosport sector.
We now have a facility in which the tiny Size 01 Souriau 8STA connector series can be modified and remodeled to suit a customer's specific application. Examples on show at PMW will include weight and space saving single flange versions of the standard connector and custom gaskets or nut plates that match the profile of the modified connector.
For the latest motorsport connector solutions visit our stand no 6066 or if you would like to arrange an appointment beforehand, please contact us by emailing motorsport@fclane.com or calling us on +44 (0) 1403 790 661.