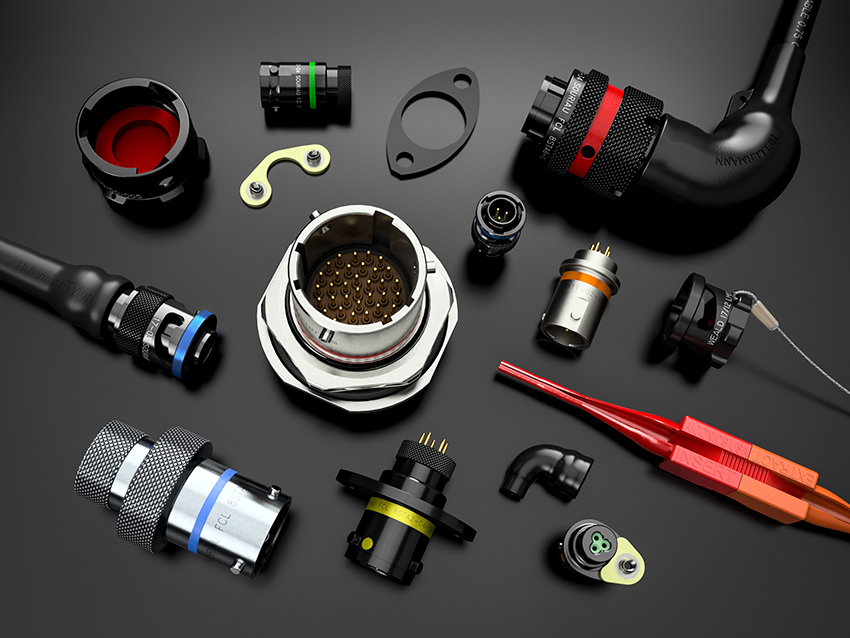 Lane Motorsport has available a comprehensive package of 8STA compatible accessories made by HellermannTyton and Weald Electronics. These include newly designed nut plates, protective caps, gaskets and heatshrink boots – all designed to meet the demanding environments found within the autosport sector.
According to Business Development Manager Peter Costin, Weald's 8STA connector accessories will be used right across the World of motorsport. Weald's recently introduced lightweight caps are as much as 40% lighter than standard autosport caps with the new design making it easier to mate and unmate. Sealing is to IP67 and they are available with and without a lanyard. They are available in shell sizes from 01 to 24 in both receptacle and plug formats.
Weald has also redesigned the nut plates to make them lighter and has profiled them to better mirror the shape of the connector flange. Like the protective caps, Lane Motorsport has these nut plates to suit shell sizes 01 to 24. A new single flange nut plate saves even more weight.
The gaskets are only available in high-temperature materials for shell sizes 01 to 24.
Every connector needs a boot
Lane Motorsport is now HellermannTyton's biggest distributor of moulded boots and shapes for the autosport/motorsport market. Lane Motorsport's stockholding of HellermannTyton products includes most common part numbers available from stock.  We stock standard boots, glue lined boots, high temperature boots for fuel tank applications, both straight and right-angled variants and the very popular VG950 twin pack epoxy used to glue standard boots. Lane Motorsport is also the sole distributor to stock the new very small boot used on the tiny Size 1 8STA Souriau connector.
Connector modifications
Weald Electronics is also modifying 8STA connectors to save even more weight and space. This includes the increasingly popular single flange receptacle and the removal of the rear knurl when connectors are used inside a box / sensor and no boot is required.
The comprehensive motorsport interconnection package is available to specify and purchase online.