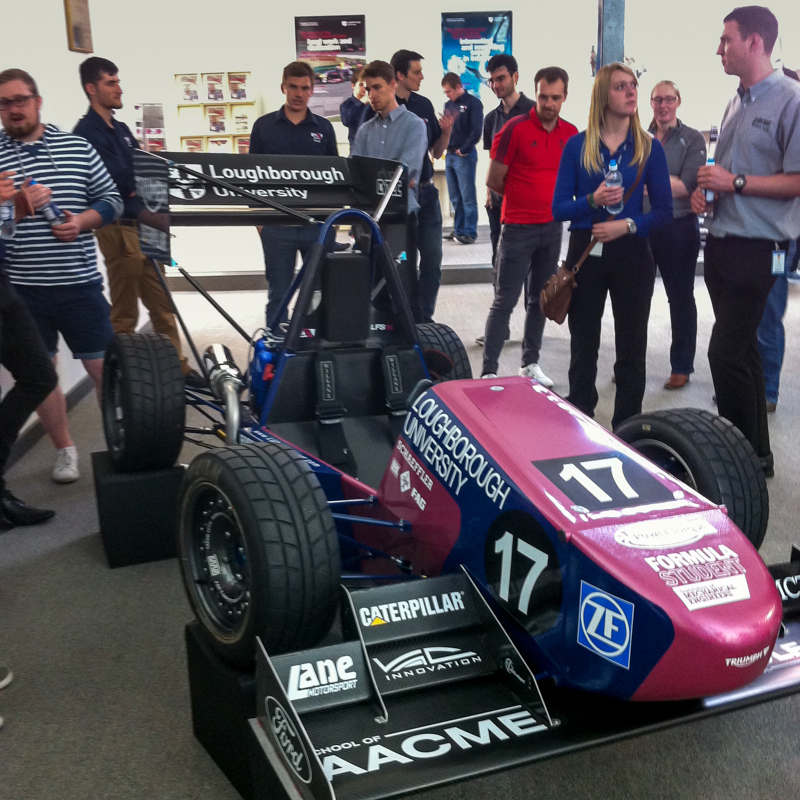 Last year we told you about our involvement with Loughborough University and its exciting racing car project which did so well in last year's Formula Student competition. You may remember Lane Motorsport provided a variety of Souriau 8STA connectors for use throughout the car. Loughborough University ended 2015 as the 3rd UK team in the World rankings and, now, the team has unveiled its car for 2016 – the LFS16.
Formula Student is an international engineering competition which challenges student teams from around the world to conceive, design, build, cost and compete as a team with a small single seat racing car. The vehicle must be suitable for a 1000 unit production run and must also be affordable to the weekend racer costing a maximum of $25,000. This year, no less than 528 teams from all parts of the World are taking part and 2016 event venues include Italy's Riccardo Paletti Circuit, Silverstone in the UK and Austria's Red Bull Ring.
The cars are judged on a number of criteria including engineering design, cost and sustainability as well as the ability to present the project in a business-like manner. Scrutineering is strict, covering such static parameters as tilt, noise and braking as well as dynamic events that include acceleration, sprint, endurance and fuel economy.
Describing the new LFS16, Team Leader Jamie Shone commented "We had a great 2015 and were fully committed to improving both the car and the way the team operates for the 2016 season. Our new car has greatly improved dynamic characteristics as well as a new modified 607cc Triumph Daytona 675 engine married to a Mitsubishi TD03 Turbocharger. We have worked very hard to improve the new car's drivability with a much improved chassis design and we are all looking forward to seeing how the car performs this year"
At the time of writing, performance figures were not available, but we will bring you details of how the LFS16 does in competition during the rest of the year.
Lane Motorsport product offering is based around the Souriau 8STA and 8TA series of high performance circular connectors as well as a wide range of compatible connector accessories including nut plates, gaskets and lightweight caps produced by Weald Electronics, protective boots from HellermannTyton as well as a complete range of tooling. Lane Motorsport's click to connect "Store" allows customers to select a standard product or "build" application specific connectors from many hundreds of in-stock components.